Pipe-in-Pipe sliding system
The LOGSTOR Pipe-in-Pipe offshore hot applications solution consist of steel inner pipe, steel outer pipe (with corrosion protection), and PUR foam bonded onto the inner pipe.
The outer pipe is able to slide on the insulation.
Details
A: Steel pipe (inner)
B: PUR foam
C: Air gap
D: Steel pipe (outer)
E: AC coating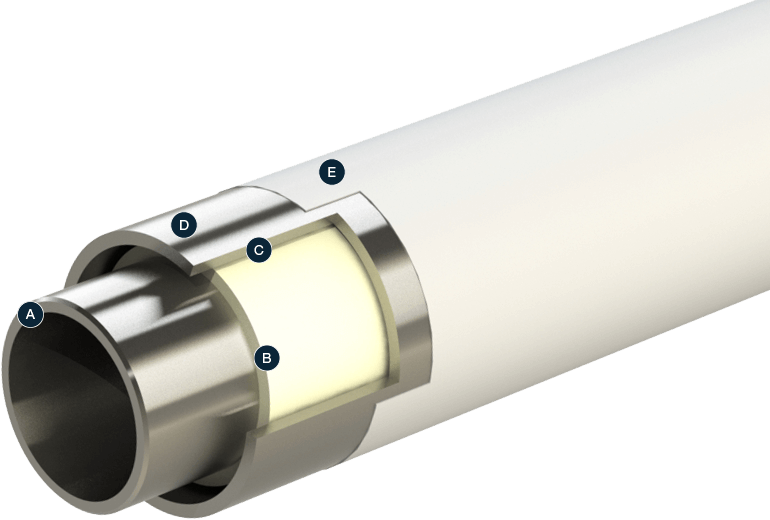 ---
Product description
Steel inner pipe
Steel outer pipe with AC Coating (FBE, 3LPE, 3LPP)
Foam Density 95 ± 15 kg/m³
Lambda value of 0.03 W/mK
Operation temperature max. 140 °C
Achievable U-value at 0.4 – 1.5 W/m²K referenced to inner steel pipe OD
Application process
1
Steel pipe pre-heated
2
Insertion of steel pipe in the mold
3
Closing of the heated mold
4
Injection of insulation
5
Opening of the mold and pipe release
6
Insert into the outer pipe
7
Pipe inspection ready for dispatch
System main features
The pipes can be installed using S-lay, tow-out or J-lay methods. Standard length of each pipe is 12.2 m, can also be supplied as double-joint, or as specified by client.
The sliding ability of the outer pipe ensures an optimal process during installation, where the pipes can be assembled with just one weld on the inner pipe, and one weld on the outer pipe.
Design life is 30 years.
---
Plant capabilities
Pipe lengths typical 12 m, possibility up to 24 m
Pipe weight up to 20 tons
The range of inner steel pipe sizes is 6 – 24"
The outer steel pipe is 10 – 32", depending on U-value requirements