Pipe-in-Pipe bonded system
The LOGSTOR Pipe-in-Pipe offshore hot applications solution consist of steel inner pipe, steel outer pipe (with corrosion protection), and PUR foam injected between the two pipes.
A bonded pipe insulation system for subsea applications.
Details
A: Steel pipe (inner)
B: PUR foam
C: Steel pipe (outer)
D: AC coating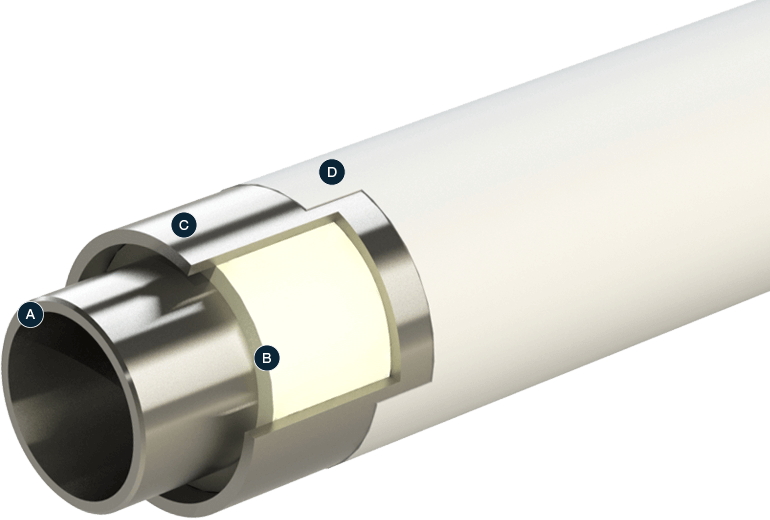 ---
Product description
Steel inner pipe
Steel outer pipe with AC Coating (FBE, 3LPE, 3LPP)
Foam Density 100 kg/m³ (+20 / -10 kg/m³)
Lambda value of 0.032 W/mK
Operation temperature max. 140 °C
Achievable U-value at 0.4 – 1.5 W/m²K referenced to inner steel pipe OD
Application process
1
Steel pipe pre-heated
2
Insertion of steel pipe in the mold
3
Centering and installing end tools
4
Injection of insulation
5
Remove end tools
6
Pipe inspection ready for dispatch
System main features
The pipes can be installed using S-lay, tow-out or J-lay methods. Standard length of each pipe is 12.2 m, can also be supplied as double-joint, or as specified by client.
The fieldjoints are made with steel halfshells, and backing strips are installed to ensure easy installation. This method ensures a uniform load transfer throughout the length of the pipeline.
Design Life is 30 years.
---
Plant capabilities
Pipe lengths typical 12 m, possibility up to 24 m
Pipe weight up to 20 tons
The range of inner steel pipe sizes is 6 – 24"
The outer steel pipe is 10 – 32", depending on U-value requirements