Recycling logo reinvented!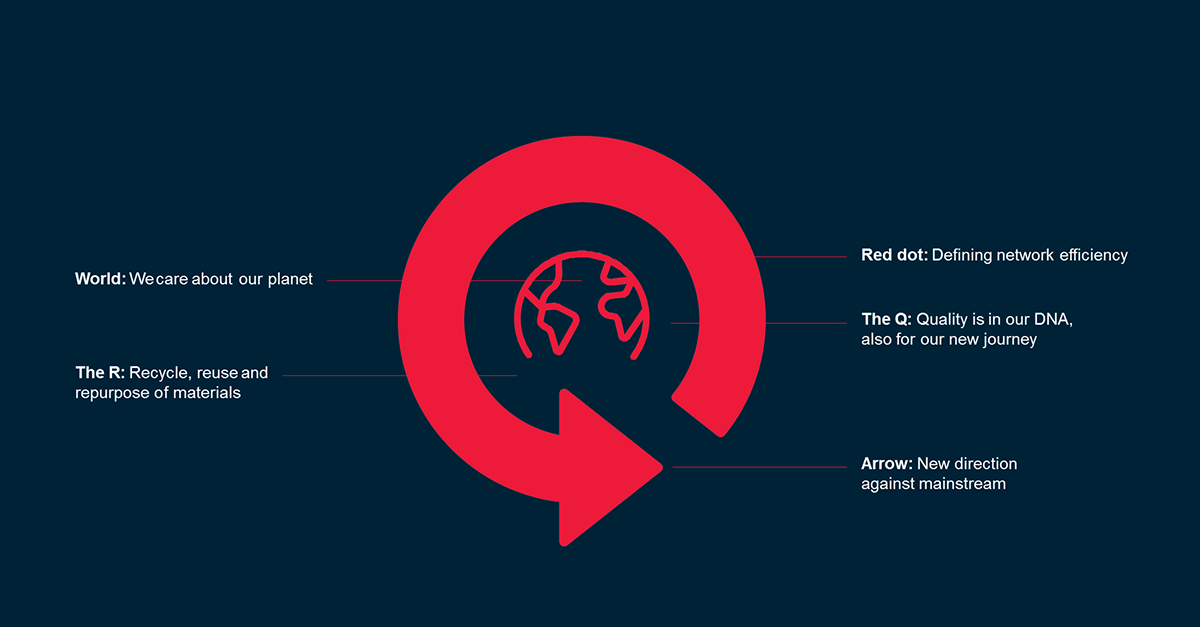 The recycling logo is composed of five elements, each representing a statement connected to our vision that aims at 100% recycling and circular economy. LOGSTOR's continued work within recycling underpins our pioneering role within the industry as well as our key position within the green transition.
The first element
is the Red Dot: defining network efficiency. Besides being our company pay-off as well as the constant aspect of our history, this particular statement means that LOGSTOR defines network efficiency by delivering a lifetime of value through solutions that lower the Total Cost of Ownership over the entire lifetime of your pipe system.
The second element
is the Arrow: new direction against mainstream.With the development of district heating outer casings of 100 % recycled plastic, we have taken a pioneering initiative not seen before in district heating business. 
By extension, as wisely expressed by our CEO Kim Christensen, we do not follow the rules, we define them and thus lead the district heating market towards a future where green solutions will eventually become a standard in energy optimization processes.
The third element
is the World: we care about the world. As an essential contributor to significant CO2 emission reductions, we must take action to combat climate change today in order to avoid consequences for tomorrow.

We already provide district heating solutions that in itself are energy efficient. However, we can do more! Therefore, we do not only care about the end product, but also about the fact that our pre-insulated pipe systems are made in a sustainable way to enable the best and cleanest way of heating. In close cooperation with our experts, we push ourselves to improve solutions that ultimately reduce CO2 emissions. Our direction is towards engineering green district heating.
The fourth element
is the Q: quality is in our DNA. We have a strong quality culture, which ensure the highest standards of performance of LOGSTOR's products, services and solutions. To prove our commitment to quality, LOGSTOR holds certificates, customer approvals as well as quality management systems.
As expressed by our HSEQ Director Iwona Szolc, quality starts with us! LOGSTOR has four Golden Rules to ensure that we continuously improve the quality and consider it as shared responsibility: 
Every employee is engaged in quality
We do it right the first time
We focus on prevention
We demand same quality standards from our suppliers
The fifth and last element
is the R: recycle, reuse and re-purpose of materials. LOGSTOR presented its vision on circular economy and usage of recycled materials in October 2019. First step on the journey is to produce our casings with a high content of recycled plastic.  
Our long-term aspiration is that the recycled material should come from various return systems e.g. recycling casing from old district heating pipes. However, in order to achieve this, the industry standards, which today only allow use of recycled casing material from in-house production, will need to change.
LOGSTOR is very active in changing the industry standards to become 100% circular and renewable.
Besides recycling, we also focus on reuse of our own materials. By reusing production and/or processed waste, we eliminate the environmental damage that would have been caused if the waste had been disposed of, rather than reused.
Ultimately and equally important we re-purpose our materials. And what does that mean exactly? It means that we ensure that our worn out pre-insulated pipes are used for or adapted to a new purpose, either defined by us or other companies.
Conclusively, before we reach our long-term vision, which is to produce the whole pipe, including media pipe, foam and casing from recycled materials, we reuse, recycle and re-purpose while ensuring that quality and service life of LOGSTOR systems remain intact.