LOGSTOR continues its green journey in cooperation with DIN Forsyning
So far, our journey towards 100% recycling and the circular economy has only been marked by successful projects, confirming that green district heating is here to stay!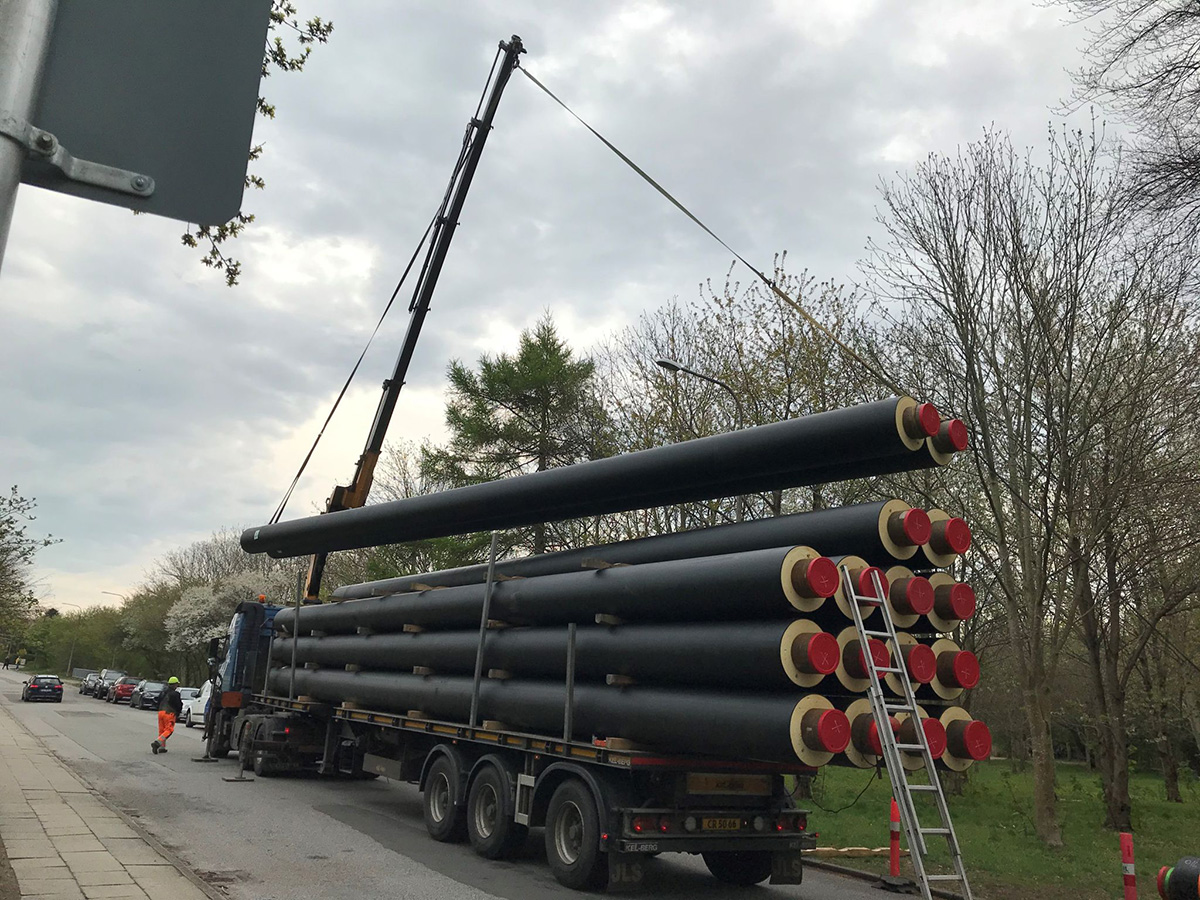 The climate-friendly Danish projects, where the casing was made of recycled plastic from, among others, worn out district heating as well as water pipes, indicate that the sustainable future is within our reach. As the leading pipe supplier, we therefore make every effort to contribute to climate improvement and reduction of CO₂ emissions.
Currently, we are able to produce the outer layer – or casing – of the district heating pipes from suitable recycled plastic. LOGSTOR has developed the process over a number of years, and we have been able to demonstrate through various in-house and external tests that the material and the manufactured products fully comply with the same durability requirements stipulated in the European standards as conventional pipes.
Our vision is that in the long run we will be able to produce the entire pipe (the pipe, the foam and the casing) using recyclable materials, however it may be a few years before a 100% recyclable district heating pipe becomes available as the industry standards need aligning. Hence, we are taking one layer at a time.
A joint mission and strong cooperation
As the next step in our journey towards energy-efficient and sustainable district heating, we have initiated a cooperation with DIN Forsyning, where two major renovation projects in Esbjerg will be the beginning of future business venture.
More specifically, the renovation project entails more than 2 km of green district heating pipes in the casing dimensions ø500 mm and ø560 mm when the district heating network at Skolebakken and Fyrparken in Esbjerg is to be renovated. Indeed, DIN Forsyning shares our green vision and they are excited about this sustainable development.
"It is definitely an ambitious cooperation. It is our ambition to increasingly use district heating pipes made from recyclable materials. However, it requires numerous tests and experience, which is why we consciously start with baby steps, so we know that the new pipes live up to the required high quality. We believe that together we achieve greater results, which is why LOGSTOR plays a role in our sustainable journey, says Thomas Bornhøft - Recycling and Distribution Manager at DIN Forsyning.
This renovation project is another step in the direction of a circular economy and entails, among others, an environmental saving of at least 32 tonnes of CO₂ by using 22 tonnes of recycled plastic rather than newly produced plastic.

We can always do more
In addition to the obvious savings that the green pipes are contributing to the project, we have added a new recycling initiative that will further enhance our cooperation.
As is well known, LOGSTOR pipes are supplied with red plastic protective caps, which under normal circumstances are not recycled.
To minimize plastic waste, we hereby introduce a return concept, which means that moving forward we will recycle instead of discard.
When installing our green district heating pipes, DIN Forsyning will collect all the red plastic protective caps and send them back to LOGSTOR, where they either will be recycled or re-melted for other purposes.
"Although recycling is not a new concept for LOGSTOR, we still need innovative and visionary partners. That is why we are really excited that DIN Forsyning will be part of our journey towards creating energy-efficient and sustainable district heating for the benefit of future generations ", says Christian Schrøder, Sales Director at LOGSTOR.
For further information and interview, please contact: 
Christian Schrøder, Sales Director LOGSTOR Denmark - csc@logstor.com / +45 41 96 56 46